Die 10. Technology & Management International Business Plan Competition, die im Januar von der Universität São Paulo ausgetragen wurde, stand unter dem Motto "Business opportunities made possible by drone technology". Je zwölf Studierende der Universidade de São Paulo, der Hong Kong University of Science and Technology, der University of Illinois) und der Universität Bayreuth wetteiferten gegeneinander, einen Businessplan zu einer innovativen Idee zum praktischen Einsatz von Drohnen auszuarbeiten. Wie interdisziplinär die Teams dabei zusammengesetzt waren, zeigt sich an den Studierenden der Universität Bayreuth, die aus den Fachrichtungen Betriebswirtschaftslehre, Wirtschaftsingenieurwesen sowie Materialwissenschaft und Werkstofftechnik stammten.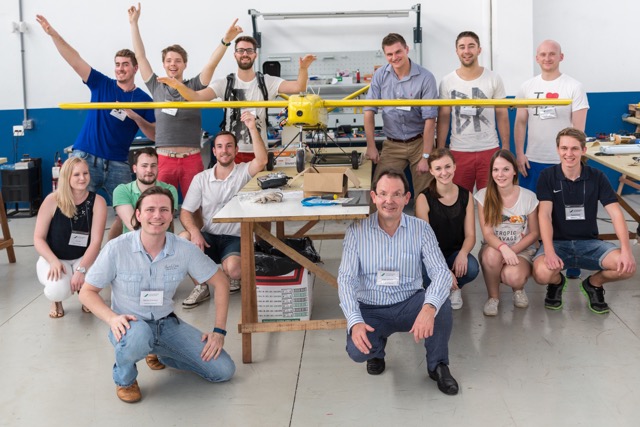 Gewinner des Wettbewerbs wurde das Team "Game of Drones" mit Felix Renz von der Universität Bayreuth. Geschäftsidee ist die Entwicklung eines Game-Parks, in dem Piloten ihre Drohnen in Rennen gegeneinander antreten lassen oder ihre Drohne durch komplizierte Parcours steuern müssen.
Für die Universität Bayreuth wurde der Wettbewerb durch Prof. Dr.-Ing. Volker Altstädt (Lehrstuhl für Polymere Werkstoffe) sowie Prof. Stefan Seifert und Dr. Sascha Schweitzer (Lehrstuhl für Technologie- und Innovationsmanagement) koordiniert. Auch dieses Jahr war unter anderem die Fördervereinigung Neue Materialien, Bayreuth Sponsor des Projektes.
---
Ansprechpartner:
Neue Materialien Bayreuth GmbH
Dipl.-Ing. Claudia Benedickt
Öffentlichkeitsarbeit
Telefon: 0921 507 36 132
E-Mail: E-Mail