Neue Materialien Bayreuth GmbH (NMB) is represented at the largest composites show in the world, JEC World 2017 in Paris, March 14-16, 2017. Visit us in Hall 6, Q49 – Area Bayern Innovativ.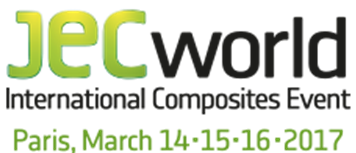 UD-tape based reinforced Thermoplastics: High performance Composites within 60 to 90 seconds
Neue Materialien Bayreuth GmbH (NMB), a non-adademic research company, has recently augmented its fibre-reinforced plastics processing technology to cover the complete process chain from tapes and organosheets to final parts. FORCE (Functionalized Oriented Composites) stands for a novel industrial-scale process for high performance production of structural components based on fibre reinforced thermoplastics at cycle times between 60 and 90 s.

FORCE comprises a multiaxial tape layup machine as preforming station, a double-belt press for pre-consolidation and a production cell centred around a customized vertical compression injection molding machine.
The unique prototype multiaxial tape layup machine is characterized by a double tape-feeder and two tables which enable load optimized preforming of UD-tapes with minimal scrap. For pre-consolidation a double-belt press with maximum working width of 1,600 mm is used. NMB´s tailor made fully automated production cell consists of a paternoster convection oven and an IR-heating station feeding a vertical compression injection molding unit with 2,500 t clamping force. The processing chain is designed to be able to realize cycle times between 60 and 90 s.
The FORCE processing chain enables NMB to provide an innovative technical platform for R&D-activities on materials and processes for series production to industrial as well as academic partners.
FORCE-Placement: Multiaxial tape layup machine for minimal scrap and cycle times

Fotos: NMB

FORCE-Con: Double-belt press for pre-consolidation of thermoplastic lay-ups
FORCE-Molding: Industrial scale automatized compression injection molding cell for high performance
In a close research collaboration between INEOS Styrolution and NMB the FORCE-Molding equipment has recently made major contribution to the development of a new generation of thermoplastic composites. The first thermoplastic composite based on styrenic polymers, called StyLight*, is made of glass or carbon fiber fabric, woven or NCF, in a modified SAN matrix. StyLight* allows the perfect combination of structural and aesthetic excellence for high-performance products with outstanding surface quality. NMB will show a part demonstrator of this new styrenic polymer thermoplastic composite produced using the FORCE-Molding technology at JEC Composites show.
Furthermore, current research at NMB focuses on the manufacturing of thermoplastic sandwich structures without using adhesive layers. A major research interest in this area is the processing of foam core materials based on engineering and high-temperature plastics, such as expanded PBT (EPBT). Additionally, current activities aim on functional integration of sandwich structures using insitu injection molding or steamless insitu particle foaming.
*Trademark application pending
---
Ansprechpartner:
Neue Materialien Bayreuth GmbH
M.Sc. Michael Kropka
Telefon: 0921 507 36 402
E-Mail: michael.kropka@nmbgmbh.de