Die 11. International Business Plan Competition, die im Januar von der Hong Kong University of Science and Technology ausgetragen wurde, stand unter dem Motto "Health-Tech for Seniors in Hong Kong". Je zwölf Studierende der University of Illinois at Urbana-Champain, der Universidade de São Paulo, der gastgebenden Hong Kong University und der Universität Bayreuth erarbeiteten in internationalen Teams Geschäftsideen und entwickelten Geschäftsmodelle zu diesem Thema.
Für die Universität Bayreuth wurde der Wettbewerb durch Prof. Dr.-Ing. Volker Altstädt (Lehrstuhl für Polymere Werkstoffe) sowie Prof. Stefan Seifert und Dr. Sascha Schweitzer (Lehrstuhl für Technologie- und Innovationsmanagement) koordiniert. Vor Ort standen Prof. Altstädt und Dr. Sascha Schweitzer den deutschen und internationalen Studierenden als Mentoren zur Verfügung.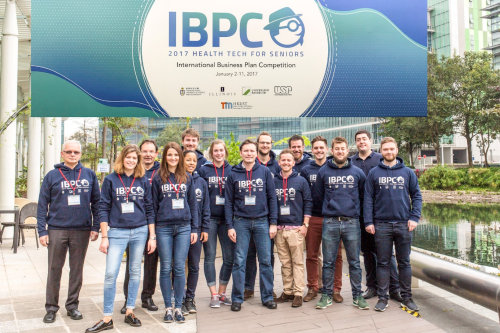 Prof. Altstädt (dritter von links) mit dem Team der Universität Bayreuth
Gewinner des Wettbewerbs wurde das Team "SilverSolutions' mit einer würdevollen Hilfe für Inkontinenzpatienten. Im Gewinnerteam war die Universität Bayreuth durch Jannik Lockl vertreten, der sich zudem über den Titel als "Best Presenter" des Wettbewerbs freuen darf.
Auch dieses Jahr war unter anderem die Fördervereinigung Neue Materialien Sponsor des Projektes.
---
Ansprechpartner:
Neue Materialien Bayreuth GmbH
Prof. Volker Altstädt
Telefon: 0921 507 36 100
E-Mail: Mail-Link
---